A long and lasting bouquet of flowers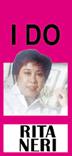 Ever blooming blossoms looking as fresh as the day you walked down the aisle is the promise that the Bridal Conservatory makes when you have your wedding bouquet preserved with them. A first in the Philippines, the Bridal Conservatory specializes in the fine art of preserving fresh flowers. In this country of ours with its tropical climate and intense humidity, floral preservation used to be non existent. At best we could only dry certain flowers or press them for framing later.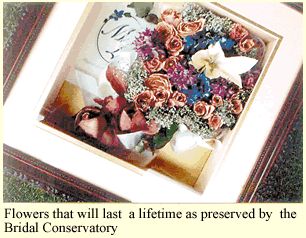 Because I just love flowers, I even ventured into trying to preserve flowers using different methods from immersing them in silica gel and microwaving to simply hanging them upside down for air drying. The results were quite dismal.
Brides often request for their bouquets to be preserved, but only now, with Bridal Conservatory in place, can I say, yes, it's possible. According to Melissa A. Jadwani, owner of Bridal Conservatory, they treat each bloom in your bouquet using a patented "fresh treatment" process. The blooms are then expertly arranged and vacuum-sealed in exquisite glass dome display cases or framed. They can also include inside the display case a copy of the invitation or a swatch of fabric or lace from the wedding gown.
Melissa is quick to add that the secret to perfectly preserved flowers is beautiful, fresh blooms. Since freshness is the key, they have arranged for a pick-up service and usually suggest that the bride orders a separate bouquet to toss at the reception so that the real one remains fresh and intact.
It is also requested that a reservation or booking be made prior to the wedding date. A visit to the Bridal Conservatory allows the bride to select her display case options, design, and color. Arrangements for pick-up and receipt of bouquet should also be done. Lastly, since weddings have peak months, it would be a good idea to give a downpayment so that construction of your display case may be started and made ready prior to the wedding date.
For most types of flowers, the preservation process takes two weeks at the most. Since the process is chemical based—not freeze-drying—certain blooms react in specific ways. Flowers that do better in this process are those that have less water content or whose petals and leaves are sturdy. Good examples of these are roses, calla lilies, orchids (like palynopsis and dendrobiums), ranunculus, and hydrangeas, if really fresh. Tulips have a tendency for the petals to shrink or to become thinner.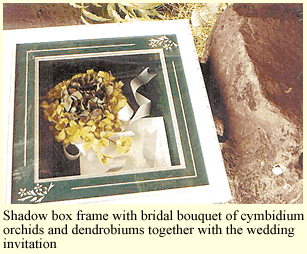 Prices for the preserved flowers vary depending on the amount of preserved blooms chosen. One can choose a few flowers or the entire bouquet. Also to be considered is the choice of display casing. Prices range from P 5,000 to about P13,000, depending on whether you want it in glass domes, shadow boxes, or the works, with invitation, fabric swatches, and bouquet thrown in. Keep your floral keepsake indoors, in a cool, dry place. Avoid displaying them in areas where there is direct heat or light to avoid rapid discoloration of the flowers. Lastly, never open the display case, once opened or broken, humid air will wilt the preserved flowers.
Whether you preserve the whole bouquet or just one perfect bloom, preserving one's bouquet is creating a wedding heirloom which will be remembered long after your march down the aisle.
You may visit the Bridal Conservatory website at www.thebridalconservatory.com.